Farewell Message from the NoF 2020 Chairs
NoF 2020 is now over. We would like to thank all presenters and participants for an excellent online event that went quite smoothly! We are glad to report:
Almost 100 registered attendees
Timely keynotes, expert panel, tutorials, and presentations that gave rise to interesting questions and discussions
One exciting demo session with 4 demos
Zero no-show, all sessions took place as planned
No practical issue during the whole conference
Great involvement of the OC Members
Excellent collaboration between the chairs and the arrangement team
You will find here the summary of the conference including the main outcome of the survey. 
All pre-recorded videos, as well as the videos of the keynotes, tutorials and panel are available to participants only using the credentials provided when registered.
All papers including demo papers will be next submitted to IEEE and shortly available through IEEE Xplore.
Congratulations to Yunsei Lei for the Best paper award of NoF 2020!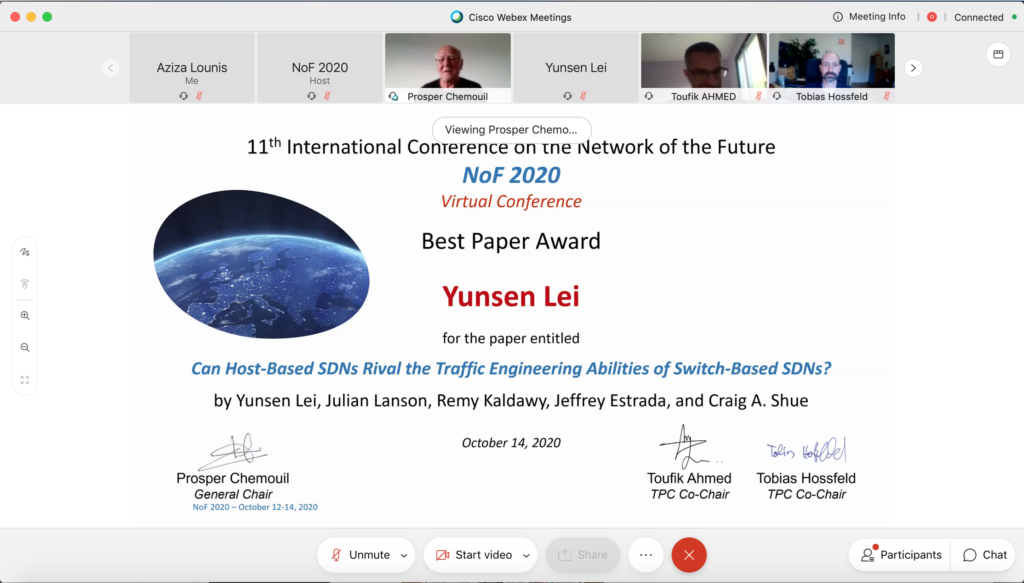 It is unfortunate that we could not meet in person in Bordeaux, France and we are looking forward to other opportunities to set up an event there.
Finally, the organization of NoF 2021 is already in place. Though the exact venue is not yet known, we hope to meet all of you again on site in 2021.
Stay tuned and safe!
General Chairs
Prosper Chemouil, Cnam, France
Francine Krief, Bordeaux INP, France
TPC Chairs
Toufik Ahmed, Bordeaux INP, France
Tobias Hoßfeld, University of Würzburg, Germany